Books
Know God, Know Self, Know Others
A Commentary on the Craft of Living a Meaningful Life
Inspiration | Biblical Principles
In "Know God, Know Self, Know Others", Christopher Carter leads you on an adventure of poignant self discovery, illuminating insights and inspiring illustrations for developing the craft of living a meaningful life.
To face challenges in life is human; it's how we deal with them that
makes us who we are."
~ Christopher Carter
Cinematic Book Trailer
On Becoming A Real Parent
Inspiration | Biblical Principles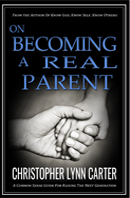 A Common Sense Guide For Raising The Next Generation
"On Becoming A Real Parent" is a must have resource for parents with children of all ages. In a world increasingly lost to adverse visual imagery, mega-technology and decadent role models, the pop-psychology of a modern era has failed three generations of American families. The parents of today are the soldiers who can pull us back from the brink armed with the one truth that must prevail.
Scheduled release to be announced
The Autumn List
Heart Warming | Fiction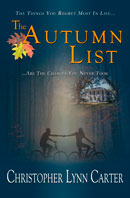 The Things You Regret Most In Life Are The Chances
You Never Took
"The Autumn List" is a current project on which Chris is working. Set in the South, it is a series of individual life stories about risk, regret, triumph and tragedy told through the lives and experiences of a host of memorable characters who live in a place called Autumn House.
Coming soon...
The Legend Of Evil
Techno thriller | Fiction: ISBN 9-780972-342704.
A Man In Every Generation, In Any Time
Tornadic super-cells are violent, twisted and unpredictable. Controlling them is impossible… or is it? Doctoral candidate Sarah Gately chases them to find out. But her quiet hometown of Melville Texas is being rocked by a string of unexplained deaths. Is there a connection? Sarah presses forward with her own investigation, driven by her curiosity as a scientific researcher and a deep personal loss. She leverages the meteorological resources of Provine University, her companion Jonathan Baxter, and her father, Dr. E.G. Gately, former Chancellor of The School of Atmospheric Sciences, to uncover the truth about what's really happening in Melville. Enter the FBI, unusual activity at Hampton farm, and the loss of one of her closest friends. Sarah is being "Stalked" as a macabre reality unravels while she ties the ends together. Tornado chases, bizarre revelations and atmospheric phenomenon follow. The facts regarding Melville begin to converge, pointing to one inevitable conclusion.
In "The Legend Of Evil", Christopher Carter taps the power of human imagination while exploring heart pounding possibilities in this electrifying techno-thriller.
BUY NOW
A Time Too Far
Techno thriller | Fiction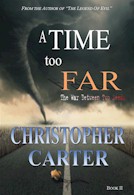 The War Between Two Seeds
The sequel to "The Legend Of Evil". It's five years after Sarah's heroing encounter. She's married now, settled and has two children. Things are about to change.
Coming soon...